This website is for educational purposes and is not meant to replace the advice of a medical professional.  As an Amazon associate and influencer, I earn from qualifying purchases.  There are also affiliate links present here where I earn from as well.  Thanks so much for reading my lifestyle blog. I hope something resonates with you.
Unleash Your Manifesting Woman Superpower Course 3rd Launch - January 15, 2024 - FREE 20 minute Chat to discuss course. Schedule here
Download The Manifest Life App and take the FREE Negative to Positive Thoughts Challenge
⭐️ ⭐️ ⭐️ ⭐️ ⭐️ 
How to Style Your Swimsuit in
3 Cute Everyday Looks

Have you ever worn your bathing suit as a bodysuit and styled it into an everyday look?  Well, I'm here to tell you that it works, especially if you want to save money and shop your closet and in this case shop your swimsuit drawer.  Lol. I will show you three looks from one bathing suit.  
These looks are perfect before venturing out to the pool or beach, date night, weekend errands or on your carefree island vacay.  haha.  Don't we all need one of those right now especially during this pandemic. 
Let me know in the comments your favorite look or let me know if you tried this style before.  
Swimsuit #gifted from NiptuckSwim.  Use my discount code: Verronica10 to receive 10% off. Shop here.  Enjoy! 
Look 1: This look is perfect for date night with the hubby or fun night out with the girls.  You choose.  
I shopped my closet for this H&M skirt ..haha..I think a lot of us ladies are doing that right now.  I paired it with this cute kimono (tied in the back) I found in a boutique shopping with one of my besties.  And the sandals are from Target.  One of my go to places for cute affordable sandals.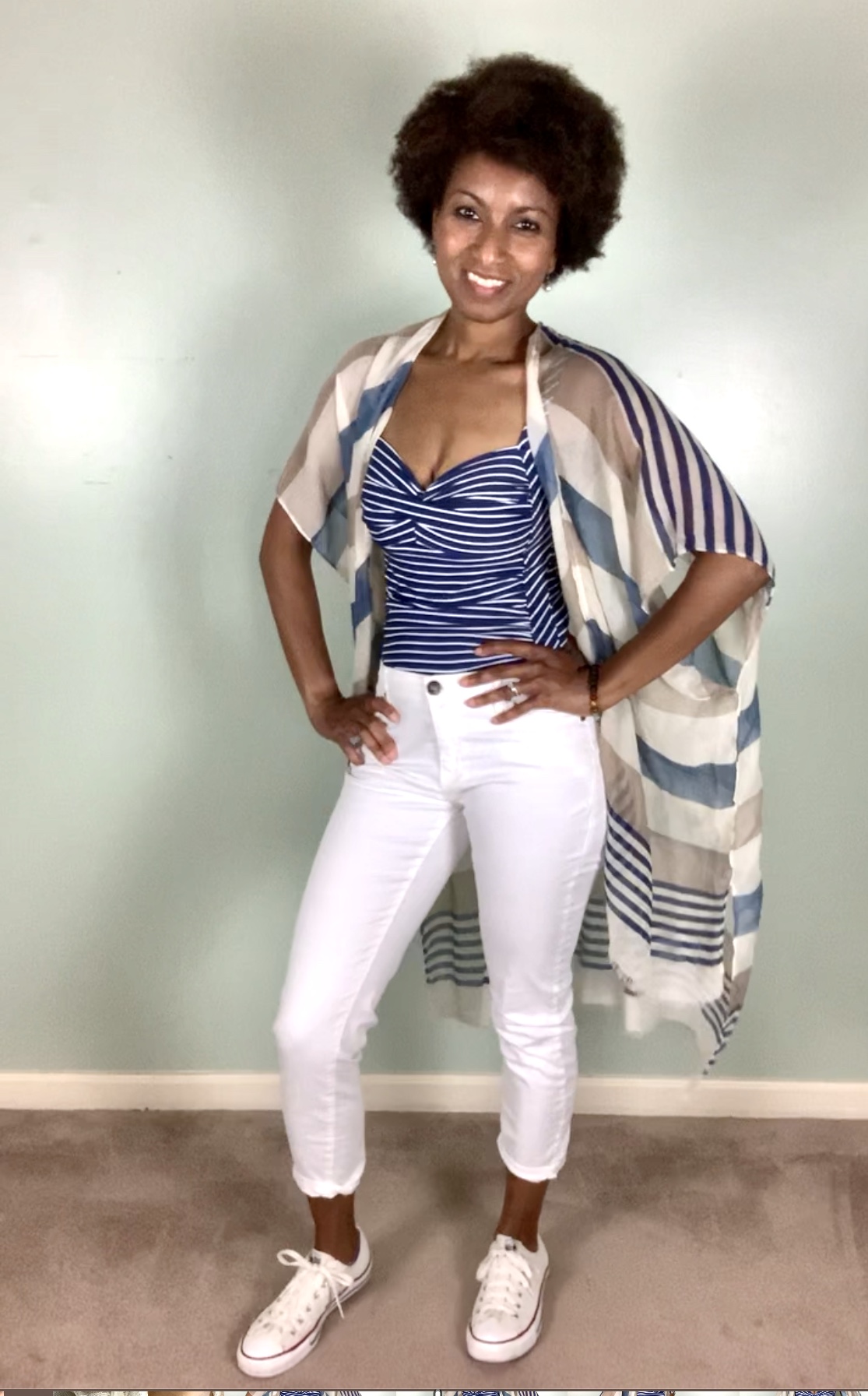 Look 2: This is perfect for running weekend errands or just a fun outfit when hanging out with the fam. 
Now, don't sleep on Costco.  They have really cute clothes.  I purchased these white pants some years ago. They are perfect for the summer.  I paired again with this kimono and my favorite Converse sneakers.  Voila!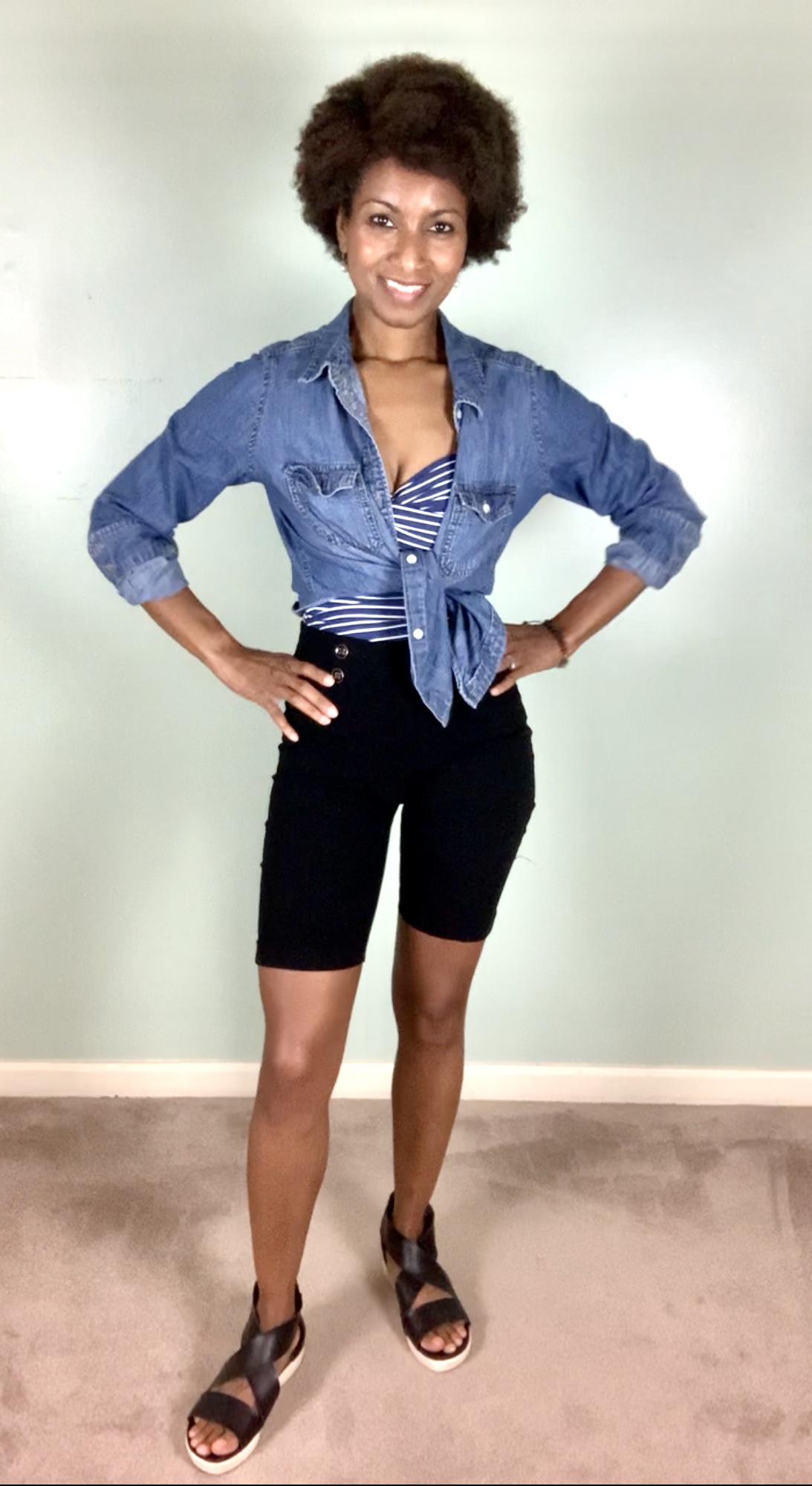 Look 3: Final look..yay!  So this is another great laid back look which can be worn with or without the jean shirt.  The biker shorts, I picked up from Ross.  I love Ross because you can find really cute items at great prices. 
I bought the shirt and sandals from Target.  Again, my go to place for cute sandals.  I literally live there.  I haven't been there too much lately due to Covid. 
I always, always hit the sales rack.  An absolute must! 
Which style is your favorite? Let me know below.  
Last thought: Everyone has style! It's truly a matter of what makes you happy and what looks good on you.  Now go Slay Sis! 
---
I hope this has resonated with you.  If it has, please be sure to leave a comment and don't forget to share ☺️
Subscribe to my newsletter. 
THE FAB, CHIC & OVER 40 MOM VISITOR'S FAVE POSTS