This website is for educational purposes and is not meant to replace the advice of a medical professional.  As an Amazon associate and influencer, I earn from qualifying purchases.  There are also affiliate links present here where I earn from as well.  Thanks so much for reading my lifestyle blog. I hope something resonates with you.
Unleash Your Manifesting Woman Superpower Course 3rd Launch - Details coming soon 
Download The Manifest Life App
⭐️ ⭐️ ⭐️ ⭐️ ⭐️ 
Clever Home Organization Ideas To Bring Balance and Peace To Your Home 
Home organization ideas
Home organization ideas can be a great start to bringing a sense of calm to not over yourself but also your home.  I've always loved to organize...haha...not sure why but I do know that it gives me the good feels.  And honestly it's probably hereditary because I have many family members who love to do the same.  
I feel that organization is connected to our mental being.  The more organized I am, the more that I feel at peace and a calmness over my life. When areas begin to become a bit messy, I feel scattered and unfocused which signals to me that it's time to tidy and get organized.  
I'm excited to share some ideas that I have discovered over the years that helps with keeping areas tidy so that you're not stressed all of the time about finding items.  
Over the Closet Shoe Organizers 
OMG! So the first home organization idea is the use of over the closet shoe organizers.  I love them soooo much.  I love them because you can use them to hold some many other things and not just your shoes.
Here are some things that I hold in them:
In the bathroom to hold extra soap, razors, toothbrushes, etc.
In my home office to hold pens, pencils, dry erase markers, post it notes, etc.
In the kitchen to hold water bottle lids
In the basement to hold camping items such as small flash lights, batteries, etc.
In the garage to hold screwdrivers, wall hanging kits, zip ties, etc.
On the hall closet door to hold...haha, shoes annnnd masks, gloves, winter hats, etc.
I mean isn't this just amazing!  The sky is the limit with these organizers.  I also love that they have deep pockets and are see through.  
I'm sure you're already thinking how you can use one for other than shoes.  haha... 😂  You're quite welcome.  
Lazy Susans
So lazy susans are no longer just used in the kitchen.  They can be used in so many other areas where you have the need. 
I recently purchased a tall lazy susan organizer for all of my makeup and skincare supplies and absolutely love it.  I gained a ton of space back.  Woohoo! 
This one simple thing has made such a huge impact.  I feel so much more organized and put together.  It's truly a wonderful feeling.  
I loved it so much that I even purchased one for my daughter.  She loves her too.
| | |
| --- | --- |
| | Lazy susan makeup organizer from Amazon  |
I noticed that my kids bathroom needed a little bit more organization on their countertops.  Even though we recently had their bathroom renovated and they have a medicine cabinet, they still like to keep items on the counter so I came up with the idea to purchase additional lazy susans.   
I found a four pack from Amazon for a good deal.  yay! Two went in the kids bathroom and the other two I found use in our kitchen cabinets.  Oh so perfect! 
| | |
| --- | --- |
| 4 pack of Lazy Susans from Amazon  | |
Plastic Containers with Drawers
A great way to keep items such as:
pens
pencils
colored pencils
stick notes
glue sticks
crayons
craft items
is to organize them into containers with drawers.  I found some containers from Amazon which ended up being a perfect solution to keeping these items organized.
It's a real pain to not be able to find something but since using these, the fam knows exactly where to go to find what they are looking for.  
Take it up a notch and get yourself a label maker to label all of the drawers. Then, everyone will know exactly where to return items when they are done.  Woohoo! 
My daughter and I completed this organization task a few years ago and it still is holding strong.  Once it's done, it's truly a matter of just maintaining it.  
Containers with drawers from Amazon 
Mason Jars
Mason jars are great to have on hand for many reasons.  I found a set with different sizes at Costco some years back and found many purposes for them.  
I once used one to display fresh flowers on our table but now the complete set sit on our kitchen counter top and are used to hold sugar, walnuts and almonds which are easily accessible.  
It only not gets them out of their bags but it's such a lovely display. 😍
Pantry Storage Containers 
If you're looking on how to store your flour, granulated sugar, brown sugar and powder sugar, then look no more...plastic storage containers are the way to go.
I found some on Amazon and absolutely love them.  The set that I ordered also came with labels and chalk so I could label them appropriately especially when it comes to the flour and powdered sugar.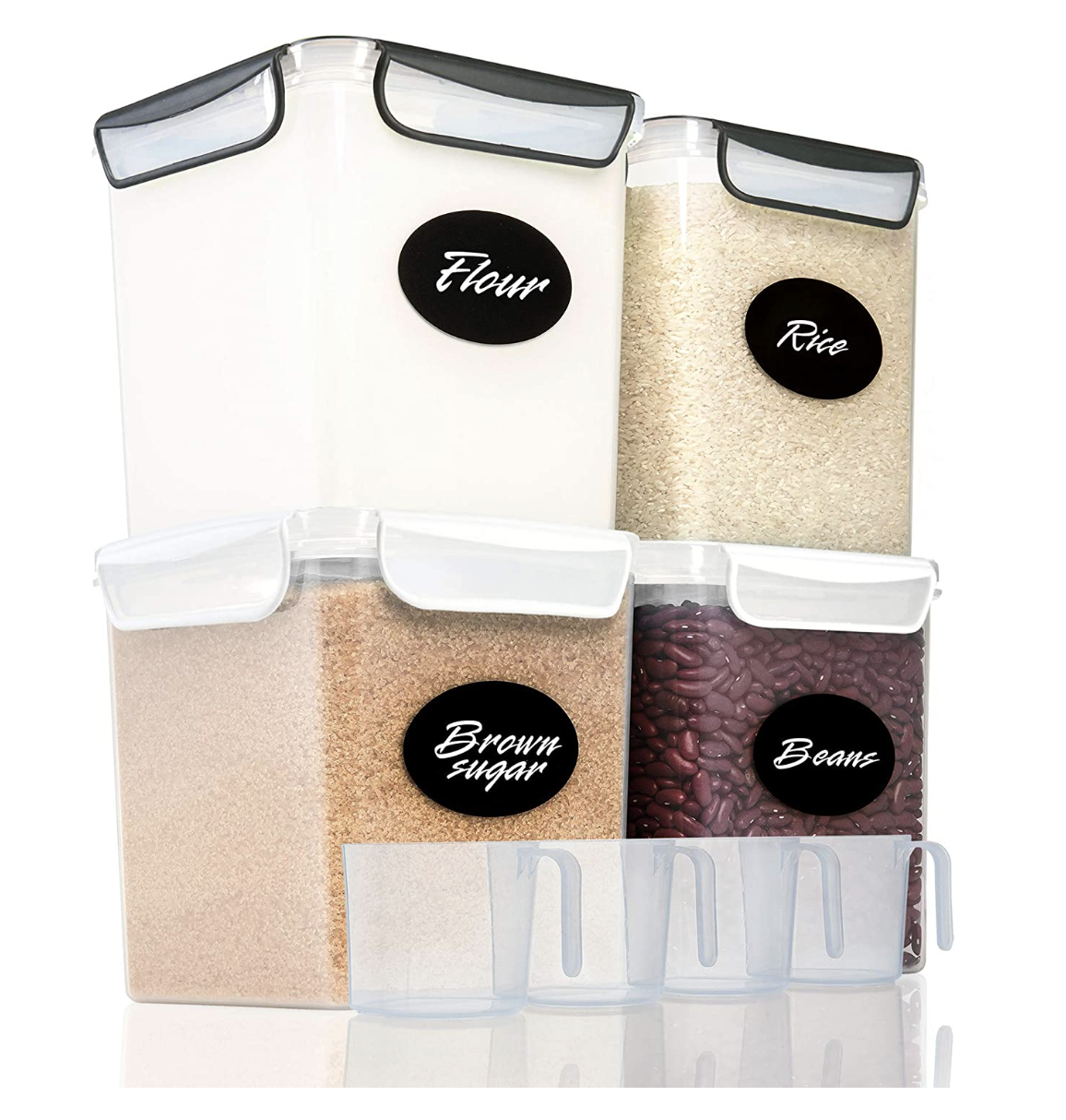 Amazon
Storage Lid Organization
When I discovered that there was a such thing as a storage lid holder, I was like wait...what!
You know all the food containers that you have and all of the lids that go with them.  Well the holder is just for the lids so you don't have a straight up mess when you open your drawer or wherever you store your containers. 
It's such a great organization tool that I wished I knew about a long time ago.  Oh well, better late than never. 
Boot Clip Hangers 
If you have a ton of boots but not enough space, I discovered boot clip hangers could be used to hang up boots....genius! 
They are especially great to use when storing boots for the winter.  And again frees up a ton of space.  
They don't have to be used for just boots either.  There's many items you can hang from these which makes them quite versatile.  
---
I hope this has resonated with you.  If it has, please be sure to leave a comment and don't forget to share ☺️
Subscribe to my newsletter. 
THE FAB, CHIC & OVER 40 MOM VISITOR'S FAVE POSTS